Company
START company was founded in 1991 in a small village called Spišská Teplica, situated under the High Tatras in the north-eastern part of Slovakia. Its founder and also the owner is Viliam Nemčko. START company focuses on selling and repairing starters, alternators and their spare parts for each type of automobile.
Long-term experiences and high quality products have secured a stable position on the market in Central Europe for START company. Our strong mechanical practice, along with our thorough knowledge have led to high level of professionalism, individual approach and guaranteed quality. Our six, computer programmed testing machines from DV Electronics, Canada; are able to detect any defect in starter or alternator.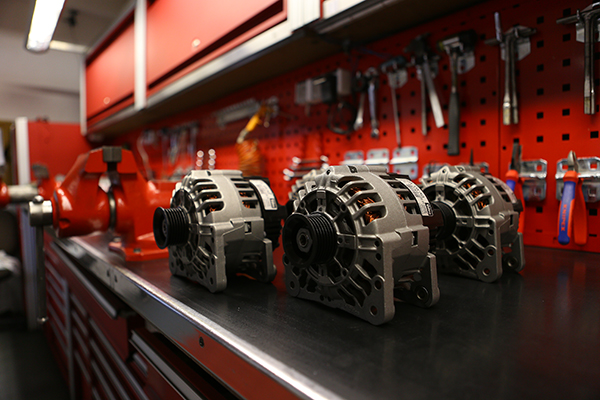 By 1998, the company was dedicated exclusively to the assortment of starters and alternators manufactured by PAL MAGNETON Kroměříž; Czech Republic. Starters and alternators were assigned mainly for car brands: ŠKODA, LIAZ, TATRA, ZETOR, KAROSA. These car brands were commonly used in Czech Republic and Slovakia at that time.
Gradually since 1998, the company began to cooperate with several foreign suppliers of parts for starters and alternators in Europe and worldwide. START company has evolved and made sure to thoroughly test all of their suppliers' products. Testing of delivered products has always belonged to the routine of our company. During the company's existence, we have built a quality network of suppliers for original and alternative products for competitive prices.
Present:
Assortment of our company could be divided into four main categories:
1) ORIGINAL products – currently, we have a wide stock of original starters and alternators for passenger cars, trucks, construction and agricultural machines. Original starters and alternators are delivered to our customers; they come from manufacturers whose products were originally supplied to the primary production of automobile brands.
2) ALTERNATIVE products - products in this category are all tested on our computer controlled testing equipment. In our workshop we focus on fine-tuning of the quality of selected products also by exchange of various components. For all products in this category we provide a guarantee of two years, and the complaints are handled in our company.
3) REPAIRED products - we have more than 25 years of experience in repairing starters and alternators. For all remanufactured products, great emphasis is placed on the quality. All components of starters and alternators are tested under a certain load. E.g. Diode blocks are diodes tested on a tester CDT150 by using a prescribed shock. Diodes are also measured in the reverse direction so it is possible to detect even a small flaw = a diode is currently operational but there is a high possibility that it will be destroyed soon. Similar system of testing applies to all components. For repairing alternators, we exclusively use Japanese NTN bearings.
4) Range MAGNETON - in this category, we stock a large number of original starters and alternators, which we managed to redeem while eliminating large military warehouses. Now we can deliver new and repaired starters, alternators and their spare parts for competitive prices in compliance with OEM quality.
Nowadays, we have a wide stock of original products, which gives us the opportunity and ability to deliver most of the starters, alternators or their parts in a very short time. Directly in the company we have a wide range of goods that is immediately available to customers.
Free delivery in Slovakia
With the order of 50.00€
Stock
The biggest warehouse of starters and alternators in SR and ČR
+421 52 77 38 128
Monday-Friday
7:00 - 16:00